MODEL 606
MADE FOR YOU TO STAND OUT
Our ultimate goal since day one has been to deliver a reliable and durable product ensuring global standards of quality: Presenting model 606, our answer to electric mobility of the future. Model 606 promises quality and reliability from every angle and at every component level.
Model 606
LFP LITHIUM BATTERY
LFP lithium battery comes with a 3-year warranty and 2,000 charge cycles
Model 606
MODEL 606 CHASSIS
PLASTIC PARTS
Anti-fall and Anti-collision material for plastic parts. Dustproof and waterproof grade IP 57 full protection on motor and controller. Waterproof, high-throughput chassis
The model 606 comes with a range of safety features that you may require in circumstances that may happen without your knowledge
LFP BATTERY
Lithium iron phosphate (LFP-THERMOSAFE) with battery-high temperature resistance and Good heat dissipation provides safety and fast charging.
OBMS PROTECTION BOARD
Flame retardant cables
FLAME RETARDANT CABLES
Enhanced safety comes from the V-1 flame-retardant wire. The waterproof connector prevents short circuit.
OPTIMISED TYRES
Optimized tyre material pattern to reduce rolling resistance, reduce rolling resistance by about 46%.
Model 606
NEW IRS
Beyond this, to protect your family,especially children the model 606 has the moved away from the traditional push button to switch on the vehicle. Instead it has the innovative and new IRS(Intelligent Release System) to start and get moving. The IRS ensures that the risk of accidently starting and accelerating the vehicle is mitigated, a risk currently at 30% which often a family member / child involved.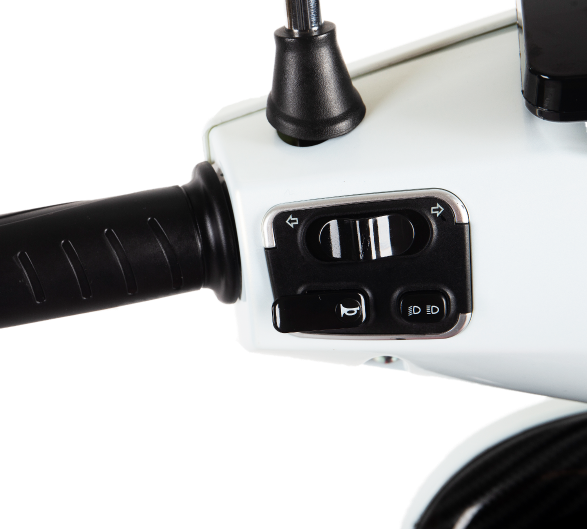 Additionally Model 606 ensures safety and protection during emergencies that may arise.
RUN WITHOUT POWER IN AN EMERGENCY SITUATION
ONE-CLICK REPAIR FUNCTION
AUTOMATIC POWER-OFF DURING A ROLLOVER OR FALL
DEEPWATER AUTOMATIC POWER OFF
LCD BLACKBERRY
9 inch LCD blackberry screen full-function display instrument, enables you see in a dark night
EXPRESS YOURSELF
Choose your own cover body design and express yourself
BETTER SEATING POSTURE
180cm ground clearance, 745mm seat height for better seating posture
GOLDEN RATIO BODY
Golden ratio body: front and rear 4:6 counterweight ratio with low Center of gravity.
LFP BATTERY PORTABLE
Golden ratio body: front and rear 4:6 counterweight ratio with low Center of gravity.
BUCKET TOOLBOX
28L large capacity under seat storage with bucket toolbox
LARGE TORQUE
Large torque, high speed, 40% climbing ability and can reach up to 22 degrees
CAR-STYLE CHARGING PORT
Car-style charging port, for easy switch from normal charging to fast charging modes
Model 606
FORGET RANGE ANXIETY
Forget Range Anxiety. Cruise through the city carefree with accurate real-time vehicle diagnostics on your dashboard.
CENTRAL CONTROL SMART LOCK
DAO THERMOSAFE LFP BATTERIES
Length
1860 mm
Width
760 mm
Height
1120 mm
Seat Height
745 mm
Ground Clearance
180 mm
Pay Load
150 Kg
Kerb Weight
85 Kg (Without Battery)
Type
LFP Li-ion
Voltage(V)
72 V
Capacity (Ah)
30 Ah
Type
BLDC
Voltage(V)
72 V
Peak Power
3500 W
Transmission System
Wheel Hub Motor
Speed
70 km
Range
100 km
Gradeability
> 13 deg
Front Brake
Disc Brake
Rear Brake
Disc Brake
Front
Telescopic Fork
Rear
Double Shocker
Type
Tubeless Tyre
Front Tyre
120/70-12"
Rear Tyre
100/80-12"
Head Lamp
LED Type
Front & Rear Direction Indicator
LED Type
Tail Lamp
LED Type
Instrument Cluster
Digital